Denisa Rozsypalova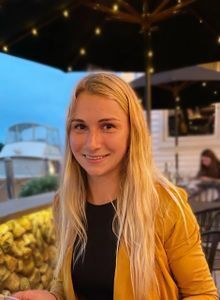 Denisa Rozsypalova (She/Her) is an international student at Cabrillo College pursuing a degree in Health Science and working towards an Associate of Science degree in Dental Hygiene. In the Fall Semester of 2022 she served as a Senator-At-Large and during the Spring Semester of 2023 as the President of the Associated Students of Cabrillo College (ASCC) Student Senate. Recently, she was re-elected to the same position, highlighting her accomplishments in her previous term.
Denisa is passionate to represent all students and to bring the student community together. She is determined to assist everyone in having a positive experience while studying and make sure that everybody achieves their educational and career goals.
Aside from the advocacy work, Denisa enjoys working as the Student Assistant at Cabrillo College Employment & Internship office, where she assists students with job search. In her free time she likes reading, outdoor sports such as surfing, mountain biking and snowboarding.